How to Write a Business Review
Know the expression, "Everyone's a critic"? That's truer than ever with the influence of social media and the power of technology you carry in your pocket.
Why bother writing a review?
Just like you, people who are shopping for goods and services like to hear unbiased views about other customers' experiences. Reading customer reviews has become an essential part of online consumer research. And now it's easy to send a glowing review to your favourite business and share your great customer experience with others who can benefit from your knowledge.
Why use Google instead of Yelp or other review sites?
When you give a Google review, it helps that business rank better in online searches and is more easily found by potential customers. Your review will be read by more people and have more influence when it's on Google, and that business climbs up the search ranks because of reviews just like yours! Your positive experience can help that company build its good reputation and, ultimately, succeed because of you.
You'll need a Google account or G-mail in order to leave a review on Google. Then you can use your Google Account username and password to sign in and write Google Reviews, get access to Gmail and other Google products like YouTube, Google Maps, Google Docs, Google Earth, Calendar, and more.
Don't have a Google account? It's simple to set one up with these step-by-step instructions:
Step 1: Go to https://accounts.google.com/signup
Step 2: Fill out your details as outlined and click the blue Next step button.
Step 3: You will then be prompted to create a Google+ profile. The information will automatically populate from the Google Account information you just provided. Click the blueCreate button.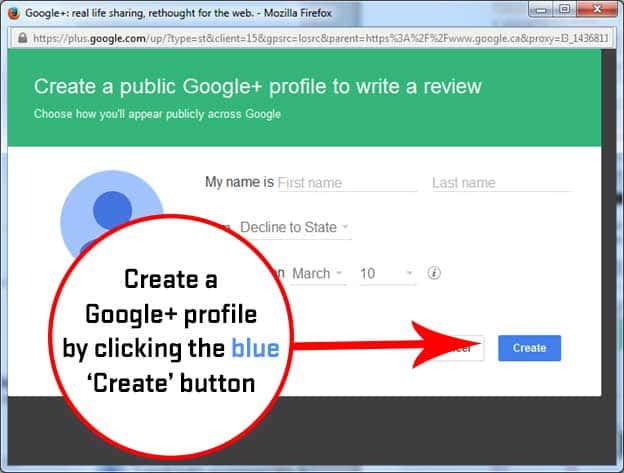 Once you click the blue Create button, you are ready to write your Google review now!
---
How to leave a Google review for a business:
Step 1: Go to www.google.ca and type in the business name (for example: Mills Motors Buick GMC) in the search bar.
Step 2: Click on the correct company listing if several similar names are listed.
Step 3: Your selection (such as Mills Motors Buick GMC Ltd) will appear in the right-hand pane search results on your screen. Click on the Write a Review button.
Step 4: Select your number of stars, write your review, and click Publish!
---
If you'd like to see some examples, check out these real reviews from our amazing customers!