Meet the staff: Christian Panza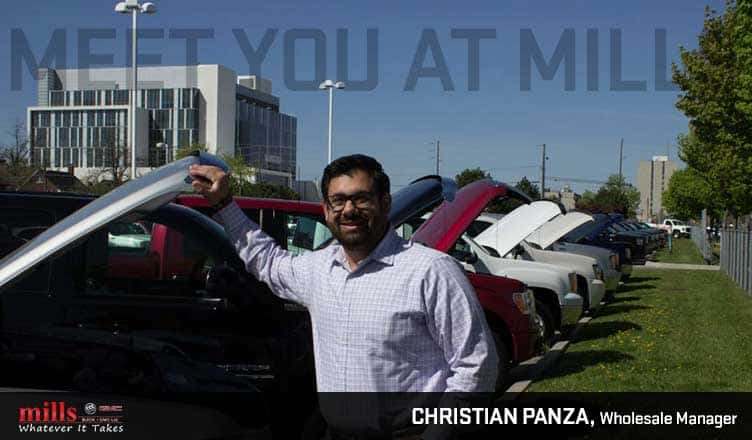 In our blog feature, Meet You At Mills, we meet the staff members of the Mills Motors team, from our sales staff to the admin team and into the Service department. Each member of our team plays an integral role in staying true to the concept of "Whatever It Takes" and we'd like for you to get to know them.
---
Recently we had the opportunity to sit down with one of the newest members of our team, Christian Panza. Christian brings a charisma and energy to his position of Wholesale Manager that is sure to win him great success here at Mills Motors. Here's what Christian had to say:
Mills Motors (MM): How long have you been working at Mills?
Christian:  Since May 1st, 2015
MM: How did you get started in the automotive industry?
Christian:  I remember, as a kid, crawling through the different cars my Dad always drove and my brother bringing home all of the Fleet books.  I would sit down and draw my own little picture of the cars and write down all the specs. Despite my Dad telling me to do anything other than the car business, It became my passion and I was in it.
MM: Can you share some of your history that led up to you joining us at Mills?
Christian:  I went to Georgian College's Canadian Automotive Institute, worked at the North Toronto Auction, working my way up from cleanup and lot jockey to yard supervisor and manager. I left to run my own mechanical shop for two years, then went back to the auction as a sales rep, account manager, and then sales manager.
MM: Where did you grow up?
Christian: I grew up and still live in Bradford, ON.
MM: What car do you currently drive?
Christian:  My wife drives a Lincoln MKT, which is a good car for the kids and has AWD.  When I have time, I drive a little '83 Fiat Spider in the garage in British Racing Green. It's awesome. From time to time I will borrow my Dad's little '71 Fiat 500. Other than that I drive a different car every day.
MM: What is your favourite part of being a Wholesale Manager?
Christian:  I've always felt strongly about being in the people business. We all sell cars, we all touch cars, and we all move cars and metal and all that fun stuff. But we are in the business of people and that makes me happy.  The relationships that you build always go further than the business that you do, and it always comes back around.
MM: What are two words that most people would use to describe you?
Christian:  Loud and funny. Depends on who you're asking! If it's in the business sense, then a "hustler" in a good way because I've always worked hard and had a great work ethic, and I have a big heart.
MM: How do you think most people see sales departments in car dealerships? Is it accurate?
Christian:  A lot of people almost have the 'white coat syndrome' so to speak when it comes to buying a car. Like when you walk into a store and everyone is all over you, saying, "Can I help you?" If it's the right smile, the right person, and the right mentality, that 'white coat syndrome' goes away.
MM: What is your favourite part about working at Mills Motors?
Christian: The people.
MM: What does the Mills Motors promise of "Whatever It Takes" mean to you?
Christian:  The camaraderie. The real meaning of what I've seen of "Whatever It Takes" really is just that. It's not just the bending over backwards or the cutting of the price. I think it's that camaraderie and people going above and beyond the sales experience.
MM: We've covered the best part, so tell us what the worst part of your job is!
Christian:  I see that the worst part is the competition, but it is also the best part for me. It's what really drives me. I look at how bad things can be made better and in turn make the people around me better. Black and white, there is no grey. Be honest with me and I will always be honest with you.
MM: If you could be ANY superhero, who would you be?
Christian:  Wouldn't you just have every super power? If you have all this money and are buying a brand new car, why wouldn't you have all the options you could get? But I am partial to Superman.
MM: What's your best piece of advice for someone who's having their car serviced or repaired?
Christian:  I've always been an advocate of trusted professionals. I owned a service shop for two years and trust was always very important. If you put yourself in a professional's hands, they will not lead you down the wrong road. If they realize they can trust you it is going to make both of your jobs easier, as both customer and service provider.
MM: Tell us one interesting fact about yourself!
Christian:  I love Europe and travelling. I have been travelling since I was a baby. At least once or twice a year growing up, my Dad would get holidays for everybody in the family so travelling is my favourite thing.