Schedule Service
VIEW DISCLAIMER
HIDE DISCLAIMER
Price Match Guarantee legal: 4 Your local dealer will match the competition's prices. If you purchase one of the aftermarket tire brands listed below and later find a better price on a qualifying brand within 30 days of the purchase, we'll refund the difference. Tire Brands BFGOODRICH, BRIDGESTONE, CONTINENTAL, DUNLOP, FIRESTONE, GENERAL, GOODYEAR, HANKOOK, KELLY, MICHELIN, PIRELLI, UNIROYAL, KUMHO. The price match applies to the brands listed above. Tire brands not carried by your dealer will not be guaranteed for a price match. Competitive Prices: The competitive price you find must be in a valid ad, written estimate or Internet quote for identical, new tires. The tires must be an exact match in brand, tire line, size, load rating and speed rating to be eligible for the price match guarantee. All competitive quotes (including internet quotes) must come from a local competing tire retailer and installer (with a physical location within 100km of your participating GM retailer. The competitive price must be valid within 30 days of your purchase of any of the tire brands listed above. Service and Installation: The price match guarantee is only valid on the tire price and does not include installation/labour. Offer available to retail customers only at participating Canadian Chevrolet, Buick, GMC and Cadillac dealers. Offer valid from January 1, 2020 to December 31, 2020. GM Canada reserves the right to cancel, modify or amend the offer without notice. Conditions and limitations apply. May not be combined with other offers and programs. GM Card Tire legal: 47 Eligible Cardholders of a Scotiabank® GM Visa® Card are eligible for $100 instant discount on select tires purchased at participating Chevrolet, Buick, GMC and Cadillac dealerships in Canada, up to a maximum of two (2) sets of tires per eligible VIN, per eligible Cardholder, for the promotional period. Offer is valid from September 1st , 2020 to November 30th only on eligible tire purchases charged to the Cardholders Scotiabank® GM Visa® Card account. Offer is not stackable with the 10% discount Scotiabank® GM Visa® Card program on parts and service. Only GM National Account tires with a GM Part Number are eligible for the offer. This offer is stackable with the instant tire manufacturer rebates. This offer may not be redeemed for cash and may not be combined with certain other consumer incentives available on Chevrolet, Buick, GMC and Cadillac vehicles and/or their associated parts. Conditions and limitations apply, see your participating dealer for details. This offer is non-transferable. This offer may be changed, cancelled or extended at any time without notice. The Bank of Nova Scotia is not responsible for any products or services purchased at GM Canada dealerships under this offer. Dealer may sell for less. Instant tire manufacturer rebate legal: *Instant tire manufacturer rebates are available when you purchase 4 identical eligible tires. Rebates can be combined with Scotiabank® GM Visa® Card $100 instant rebate but cannot be combined with tire manufacturer mail-in rebates. Instant rebates available: Up to $70 from BFGoodrich, $70 from Michelin, $60 Pirelli, $55 from Continental, $50 from Bridgestone, $50 from Goodyear, $50 from Dunlop, $40 from Firestone, $30 from General tire, $40 from Uniroyal, and $40 Kumho Tire. Offer valid from September 1st, 2020 to November 30, 2020. Maximum 2 sets (8 tires) per VIN. This offer is non-transferable. Conditions and limitations apply, see participating dealers for details. No rain checks available. This offer may be changed, cancelled or extended at any time without notice.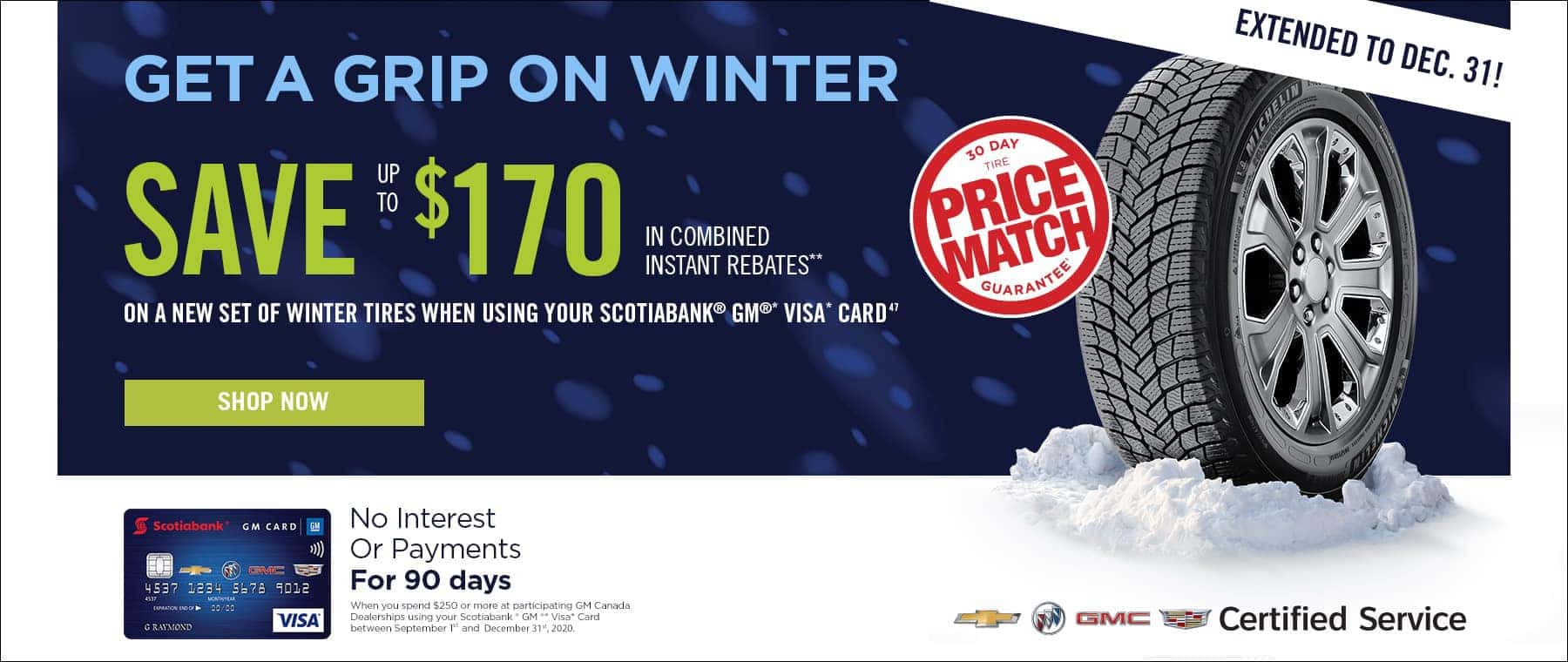 An Important Notice About COVID-19
Due to COVID-19, our employees are practicing social distancing, between each other and our customers. We are limiting face to face contact with customers and each other to minimize the exposure to the virus.
Our doors are open from 8am-5pm, Monday to Friday, with appointments strongly encouraged. Please wear your mask as you arrive in our garage. The Service Consultant is required to ask you COVID-19 screening questions.
Contactless vehicle drop off is also available when you arrive for your appointment, or if you'd like to drop off your vehicle early.
We recommend:
Upon arrival at Mills Motors, park your vehicle in a parking space across from the Service drive through doors.

Write your vehicle repair or maintenance concerns on a vehicle drop off form, found co-located with the key drop box in front of our Service drive through doors. (You can also email us in advance at service@millsmotors.ca.)

Place your key in the vehicle drop off envelope, write your name and best contact phone number on the front and drop the envelope in the box.
Our Service team will look after your vehicle concerns efficiently and safely. Of course, we don't perform any work on your vehicle without speaking to you first.
We will disinfect your key, door handles, steering wheel and put plastic on the driver's seat before we work on your vehicle and again when we are finished.
Thanks for doing your part to flatten the curve of the COVID-19!
Our Coordinator will be helping you organize your check-in time. We just need a few details about you (below) and we will take care of the rest.